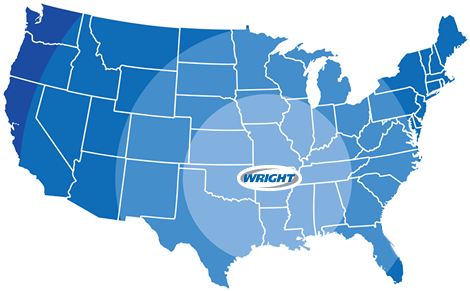 ---
Centrally Located in the USA
for Fast Shipping
Industries Served:
Automotive
Construction
Heavy Equipment
Security
Shipping
Transportation
Trucking

Wright Steel & Machine Co.
Professionalism, Service & Quality Delivered
Wright Steel & Machine Company, a technologically-advanced metal service center, fulfills a wide range of needs including metal sales, fabrication, machining, laser cutting and industrial powder coating.
Nationwide, we provide industrial and individual customers with the highest service and quality. Our customers are so pleased with our work that our products are now being published in Construction Manuals throughout the USA and in southern Canada.
Our dedicated sales team and knowledgeable craftsmen have decades of combined experience in the metalworking industry. When you work with us, you can have confidence in our experience and skills.
Committed to quality service since 1961, Wright Steel & Machine Company is now proudly managed by a third generation of owner/operators.
Some Products We Produce: